In June 2019, I participated in the Pride Art exhibition in Oslo, Norway, with the illustration "Skuer tilbake i tid/ Looking back". Pride Art is an annual exhibition held during Oslo Pride in Norway. It is the largest and most important exhibition for LGBTIQ+ artists in Norway. In 2019, the theme of the exhibition was "I fought, therefore I am", with 50 years of LGBTIQ+ history as the backdrop.
The exhibition in 2019 was the largest one so far, with 27 500 people visiting the exhibition during the week of Oslo Pride.
Description of my illustration
"Looking back" is a reference to Norway's queer history. What we're looking back on is DNF-48 – our founding organisation, and LLH – the next incarnation of DNF-48 and forerunner to today's FRI – Foreningen for kjønns- og seksualitetsmangfold (FRI – The Norwegian Organization for Sexual and Gender Diversity).
The illustration is inspired by the theatre play "Kim F", which played in Lom in Gudbrandsdalen on February 9th, 2019. Lom is represented by a version of the Lom stave church. "Kim F" is a co-production between Teater Innlandet and Den Nationale Scene, and tells the story of Kim Friele, her life and fight for gay rights, and her significance for the gay rights movement in Norway.
Title of illustration: Skuer tilbake i tid/ Looking back
Height incl. frame: 49 cm
Width incl. frame: 56 cm
Medium: Pigment ink pen, pencil, colour pencils, water colour on paper.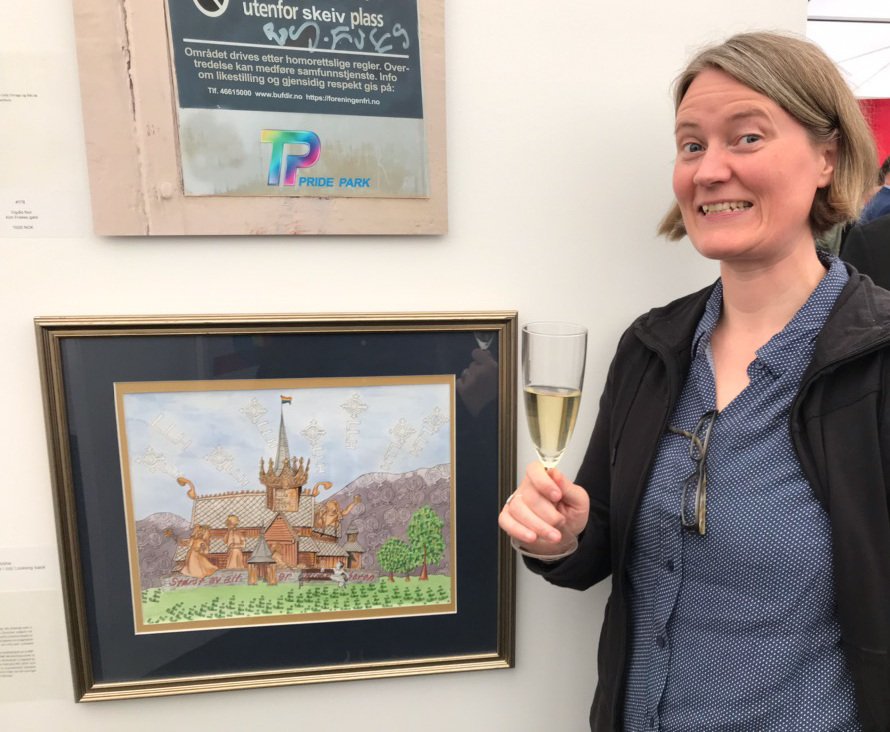 Where is the illustration now?
It was sold as part of the exhibition, buyer unknown.
Categories:
Illustrations
Tags:
DNF-48
,
Exhibition
,
Foreningen for kjønns- og seksualitetsmangfold
,
FRI
,
Gay
,
History
,
Illustration
,
Kim Friele
,
LGBTIQ+
,
LLH
,
Norway
,
Oslo
,
Pride Art
,
Queer
,
Stave church
,
Stavkirke